As an essential part of manufacturing equipment and processes, lubricants must be monitored. Through lubricant testing and oil condition monitoring, you can obtain a quality assessment of the lubricants used in your machinery, engines and other similar systems. This quality-control testing includes oil analysis programs for high-value engines, drivetrains, trains, ships, generators, turbines, offshore platforms, etc. By conducting quality testing, you can avoid problems that could potentially lead to expensive failures as well as minimize costly downtime and repairs.
The following are some of the most prominent lubricant quality regulations in industry.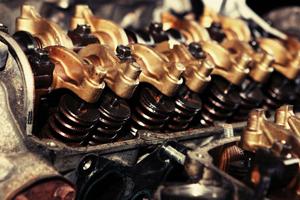 SAE
The SAE grade determines the lubricant's fluidity at high and low temperatures. It classifies lubricating oils for transmissions and engines on the basis of their viscosity at a reference temperature.
ACEA
The European Automobile Manufacturers' Association (ACEA) categorizes lubricants based on their technical specifications and the requirements of each engine type. Various tests are performed in order to classify lubricants into standardized categories, primarily using European engines and driving conditions. The standard typically includes a letter for the engine type and a number representing its performance. "A" is a common standard for a gasoline engine, while "B" is for diesel engines and "C" for vehicles equipped with post-treatment systems. Some members of ACEA include GM Europe, Ford Europe, Porsche, Volkswagen, BMW and Jaguar Land Rover.
API
The American Petroleum Institute (API) is an organization that represents the petroleum and natural gas industry. It has established classifications that consist of two letters. The first letter signifies the type of application ("S" for the service classification of gasoline engines or "C" for the commercial classification of diesel engines). The second letter provides the performance level of the lubricant. The API considers all standards preceding SJ and CF as obsolete. The SN standard identifies lubricants that offer enhanced engine protection. These lubricants improve general engine performance and allow extended oil change intervals.
ILSAC
The International Lubricants Standardization and Approval Committee (ILSAC) is responsible for creating lubricant specifications for passenger cars. It includes the Alliance of Automobile Manufacturers (AAM) and the Japan Automobile Manufacturers Association (JAMA). There are five ILSAC specifications, and all tests performed by ILSAC are certified by the API.
JASO
The Japanese Automotive Standards Organization (JASO) has established its own standards in terms of performance and quality for Japanese engines. JASO classifies oils into three categories: DH-1 and DH-2 for industrial diesel engines, and DL-1 for diesel passenger car engines and qualification of fuel-economy lubricants.
Euro Standards
The European Community standards specify maximum limits for heavy-duty vehicle emissions. These consider several factors while evaluating a vehicle's pollution, such as emission of fine particles, level of carbon monoxide, emission of nitrogen oxide, etc. The Euro standards are applied directly by automotive manufacturers.
Preventive Maintenance of Lubricant Quality
For preventive maintenance of lubricant quality, follow the steps below:
Ensure all equipment records are up to date for the manufacturer and physical location.
Determine the location of each piece of equipment that must be lubricated.
Identify the proper lubricant to use.
Determine the best lubricant application method.
Establish the appropriate frequency of lubrication.
Check to see if the equipment can be safely lubricated while it is operating or if it must be shut down before beginning lubrication.
Make someone accountable and in charge if there is any human involvement.
Standardize all lubrication methods.
Establish storage and handling procedures.
Evaluate all new lubricants to take advantage of state-of-the-art technologies.
Analyze failures that involve lubrication and take the necessary actions to correct them.
Preventive maintenance may also involve calibrating all measurement and control instruments to keep them within the specified limits. When you calibrate any instrument, you must use a standard derived from the parameters established by the National Bureau of Standards (NSB). Additionally, you can utilize secondary standards that are set against the primary standard with close tolerances. These are available through calibration and test labs.
By maintaining lubricant quality and keeping your equipment calibrated, you can achieve the various objectives and benefits of preventive maintenance.
About the Author
Edward Simpson is a seasoned calibration and technical engineer who works for RS Calibration Inc. Edward has a knack for finding machine faults and does not rest until they are rectified. He lives in Pleasanton, California, and can be contacted via email atedward@rscalibration.com.